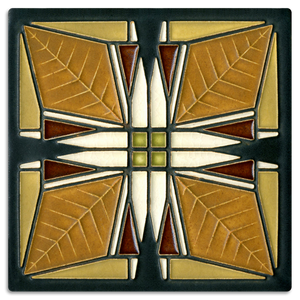 Motawi Tile: 6x6 Frank Thomas House
Motawi
Regular price $102.00 Sale
Believing the architect should create total environments, Frank Lloyd Wright's designs included art glass windows, furniture, and lighting. This tile is adapted from Wright's art glass design in one of three vestibule ceiling light fixtures in the Frank Thomas House. Build in Oak Park, Illinois, in 1901, the Thomas House holds some of Wright's most intricate leaded art glass.
Actual Tile Size: Approximately 5 7/8" x 5 7/8". As each Motawi tile is crafted by hand, dimensions may vary slightly by up to 1/16".

Tiles are 5/8" thick and have a notch at the back for hanging.
®/©/™ Frank Lloyd Wright Foundation. All rights reserved.