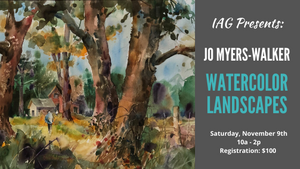 Jo Myers-Walker: Watercolor Landscapes Workshop
Jo Myers-Walker
Regular price $100.00 Sale
Instructor: Jo Myers-Walker
Date: Saturday, November 9th. 
Time: 10a - 2p
Location: Iowa Artisans Gallery
Registration: $100
During this 4 hour workshop artists will explore all of the elements needed to create a successful, and captivating watercolor landscape painting. You'll learn several different painting techniques, detailed below. Specific focus will be on painting a foreground of trees and working on bark textures and shading. Jo will also go over the importance of color usage when painting the foreground vs. the background in order to create the illusion of atmospheric depth. 
*All levels of experience are welcome in this class.
-Warm Ups: You'll start out by doing some warm-up paintings focusing on mixing colors and practicing wet in wet, salt resist, and brushwork techniques.
-Sketch: After the warm-up you'll work on building a composition by starting small with a 4" x 7" pencil sketch.
-Paint: Once satisfied with your sketch you'll move on to mapping out color choices and finally painting your tiny prototype.
-Final Composition: Finally, you'll repeat this entire process on a larger sheet of high quality Arches watercolor paper.
-Watercolor paints & Brushes
-A variety of photographs of your own homesteads to use as reference. Photographs of landscapes and things in nature that inspire you. 
-A sack lunch
The following is included with your registration:
-Watercolor paper, including a large high quality Arches sheet for your final painting. 
-Some high quality liquid watercolor paints for all to use
-A 4 page booklet that details this course so you can follow along at home for practice. 
***Don't forget to pack a sack lunch!